Ginger with Quince and Strawberry
Exclusive Herbal-fruit tea
Ingredients:
Ginger, african red bush, apple fruit, fruit quince, hibiscus flower, rosehip, flavours, linden flower, orange peel, citric acid (acidity regulator), fruit strawberry, honey powder.
NO CAFFEINE
Content of the box:
20 tea bags a 2 g
NET WEIGHT 1,4 oz
EACH TEA BAG INDIVIDUALLY WRAPPED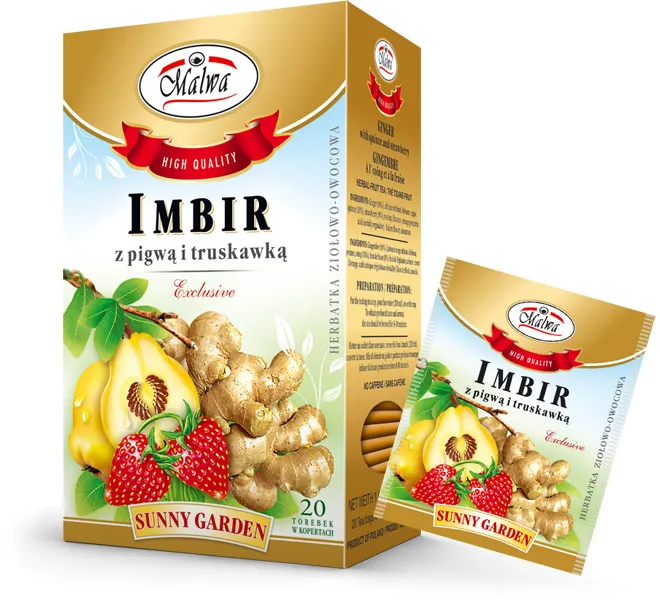 Ginger with Quince and Strawberry
The abundance of natural substances contained in the roots of spicy ginger combined with quince and strawberry is a unique source of pleasure and delightful experience of taste.
Ginger – with its intense aroma and spicy taste, has valuable properties and positively influences your body as it:
aids the digestion process;
aids the proper functioning of the digestive system;
calms the mind and alleviates stress;
has a beneficial effect on the physical well-being;
is a well-known and valuable aphrodisiac.
Quince – its fruit has a pleasant and intense aroma with a tart taste. In the ancient times, considered by the Greeks as a symbol of the goddess of love and beauty, it was also called "the Aphrodite's apple":
stimulates appetite, aids the digestion process.
Strawberry is a source of anthocyanins and has valuable properties as it:
delays the ageing processes.
Ginger with Quince and Strawberry Tea delights with its flavour and tempting aroma. It is a bit of spiciness for every day.
Open your senses and find out the secrets of the magical garden.
PREPARATION:
Put the teabag in a cup, pour hot water (200 ml), cover the cup. To obtain profound taste and aroma, the tea should be brewed for 8-10 minutes.