Cranberry with Pomegranate
Exclusive Fruit tea
Ingredients:
Hibiscus, apple fruit, rosehip, red currant, blackberry leaves, flavours, elderberry, cranberry, raspberry, pomegranate.
NO CAFFEINE
Content of the box:
20 tea bags a 2 g
NET WT. 1,4 oz. (40 g)
EACH TEA BAG INDIVIDUALLY WRAPPED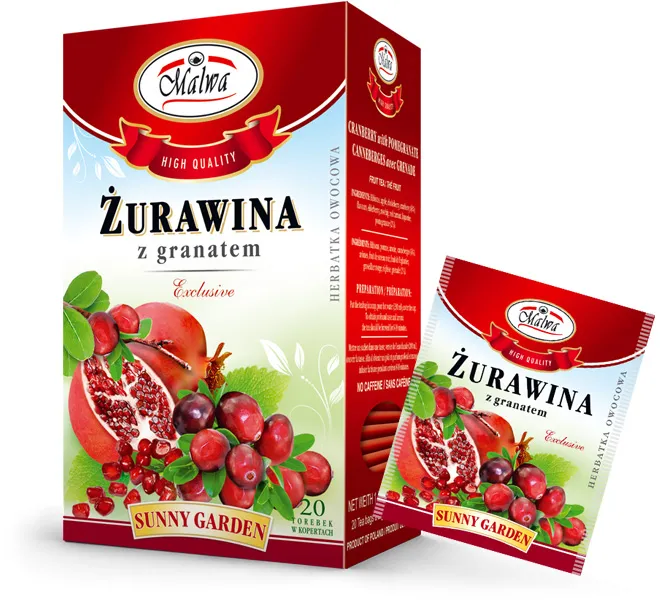 Cranberry with Pomegranate
The richness of natural substances contained in the life-giving fruit of cranberry and pomegranate combined with redcurrant is a unique source of pleasure and delightful experience of taste.
Cranberry – valued for its taste and properties, it takes a considerable position among berries. As an excellent supplement of a diet, it may serve as a valuable addition to the everyday diet:
it activates the immunological system, stimulates the growth of immunological cells;
it aids the cleansing process of our body;
it aids the digestion process;
it gives strength and energy, providing an excellent portion of vitality every day.
Pomegranate is a tropical fruit, grown in a hot and dry climate. Being juicy, sweet and tart, it makes an excellent thirst-quencher. The Chinese medicine puts it among the best fruit as it:
has a beneficial effect on the physical well-being;
delays the ageing processes of skin;
relaxes, refreshes, and invigorates.
The fruit of cranberry, pomegranate, and redcurrant contained in this tea are a natural source of strong antioxidants, which alleviate the negative effect of free radicals on our body cells, for which they provide a natural protection.
Cranberry with Pomegranate Tea is the essence of world fruit hidden in a cup of pleasure.
Open your senses and find out the secrets of a magical garden with fruit abundant in sunshine and vitality.
PREPARATION:
Put the teabag in a cup, pour hot water (200 ml), cover the cup. To obtain profound taste and aroma, the tea should be brewed for 8-10 minutes.