White Mulberry
Food supplement
Herbal Tea
INGREDIENTS:
White mulberry leaves.
A NATURAL PRODUCT
NO CAFFEINE
Content of the box:
20 Tea bags á 2 g
NET WT. 1.4 oz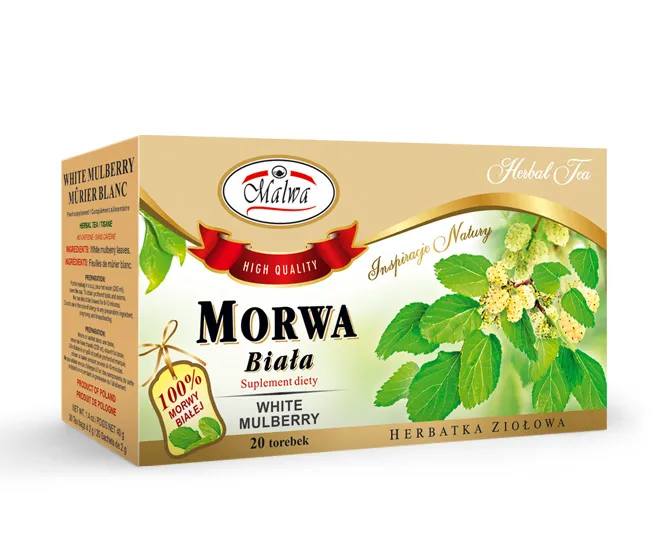 White Mulberry
WHITE MULBERRY:
it has got a beneficial impact on metabolism of sugars in the body,
it is favourable for maintaining the proper level of glucose in the blood,
it supports weight loss.
Recommended intake:
Drink twice a day one cup of the infusion prepared from 1 tea bag per 200 ml of water, a half an hour before a meal.
A daily dose contains 4 g of white mulberry leaves.
Do not exceed the recommended dose for consumption (two tea bags) during the day. Do not use if you are allergic to an ingredient of the product.
Due to the lack of sufficient scientific data it is not recommended for use during pregnancy and lactation and in small children
PREPARATION:
Put the teabag in a cup, pour hot water (200 ml), cover the cup.
To obtain profound taste and aroma, the tea should be brewed for 8-10 minutes.
This product cannot be used as a substitute (replacement) of a varied diet.
Keeping a healthy lifestyle and having a balanced and varied diet are essential for maintaining good health.