Herbal Fantasy
Food supplement
Herbal tea
INGREDIENTS:
fennel, peppermint leaves, camomile flowers, african red bush, melissa leaves, heart´s ease herb, rosehips, thyme, vervein, lemon grass, chicory root, hibiscus flowers.
A NATURAL PRODUCT
NO CAFFEINE
Content of the box:
20 Tea bags á 2 g
NET WT. 1.4 oz (40 g)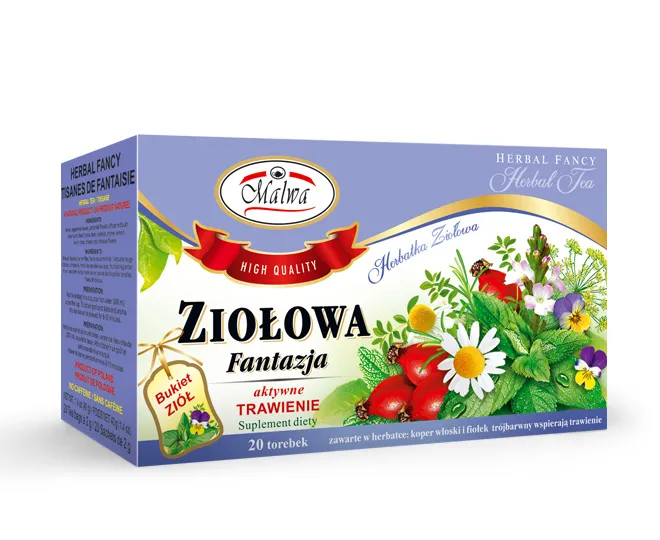 Herbal Fantasy
Herbal Fantasy Tea contains a unique combination of components which in properly chosen proportions complement each other's effects, aiding the digestion process and metabolism.
Fennel – stimulates the digestive system functions and improves peristalsis.
Peppermint leaves increase secretion of bile which improves fat digestion, aids and accelerates metabolism.
Wild pansy clears the body of toxins.
Chicory root is a natural source of inulin, stimulates the growth of bacterial flora in the digestive tract.
Herbal Fantasy Tea combined with a healthy lifestyle, regular physical activity as well as balanced and varied diet, provides an excellent supplement aiding slimming treatments.
PREPARATION:
Take one tea bag per cup. Pour freshing boiling water over bag. Brew for 8-10 minutes.