Green tea
INGREDIENTS:
Green tea, ginger, lemon peel, aroma.
Content of the box:
20 Tea bags á 1,5 g
NET WT. 1.0 oz (30 g)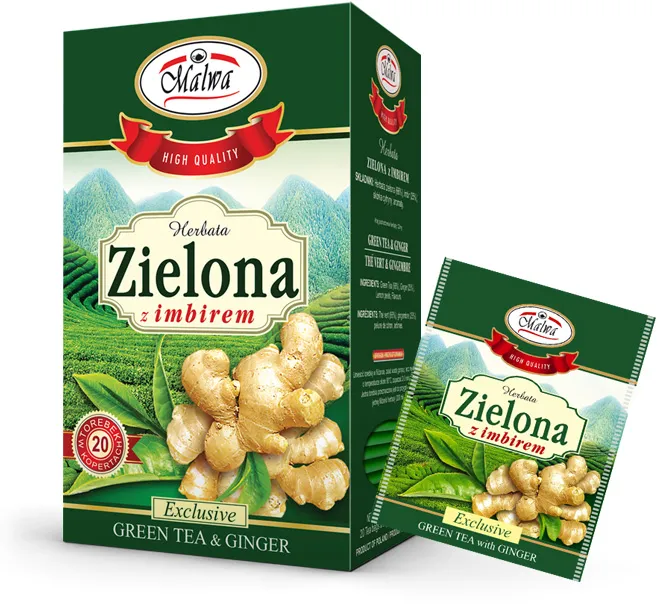 Green Tea with Ginger
The richness of natural substances contained in green tea leaves combined with enlivening ginger rootstalk is a unique source of pleasure and wonderful taste.
Green tea is one of the most noble teas, it bears the "MYSTERY OF LONG LIFE". Known and valued for ages for its exceptional health benefits, it has its place in Chinese medicine. The tea is rich in polyphenols and organic compounds that improve the functioning of our organisms and slow down aging processes.
Green tea has a beneficial effect on our organisms:
it is a natural source of antioxidants that protect body cells from free radicals,
it supports metabolism,
it accelerates fat burning, which makes it an excellent addition to slimming treatments,
it counteracts the creation of deposits in blood vessels,
it limits the absorption of cholesterol,
it detoxicates the organism,
it has antibacterial and antivirus features.
Green tea will wake you up, boost you with energy and vital forces.
Open up your senses, try the Oriental taste and aroma hidden in a cup of pleasure.
Preparation:
Put a bag in a cup and pour it with recently boiled water of about 90°C, brew for 2-4 minutes. One bag is intended for one cup of tea (200 ml).