SLEEP WELL
Food supplement
Herbal tea
INGREDIENTS:
lemon balm leaf, peppermint, rosehip, camomile, fennel, hibiscus, lavender flower, hawthorn berries, hawthorn inflorescence, lemongrass, flavour, hop, linden flower, lemon peel.
Content of the box:
20 tea bags a 2 g
NET WT. 1,4 oz. (40 g)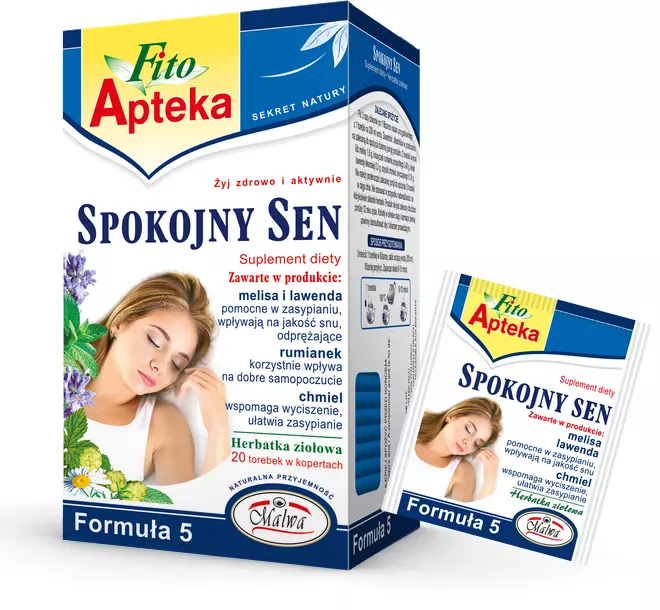 SLEEP WELL
The Sleep Well herbal tea is a dietary supplement for anyone having problems with sleeping. It contains a composition of herbs in adequate proportions.
The tea is recommended for people who are irritable, anxious, who have difficulties falling asleep and who wake up easily. It is a source of components aiding in digestion, and in periods of tension and stress.
Sleep is necessary for human life and proper functioning of the human body. It is a neurological and physiological function strictly connected with a person's emotional condition. A deep and peaceful sleep is a prerequisite for health, well-being, and the processes of biological restoration and regeneration. The absence of sleep, or shallow, interrupted sleep negatively affects the condition of the whole body. Sleeping problems are usually caused by stress, fatigue, strong emotional tension, lack of physical and mental activity, high blood pressure, circulatory disorders, and gastrointestinal indispositions. The herbs making up the Sleep Well tea help release tension, alleviate emotional excitability, brighten the mood, and soothe the mind, thus maintaining the desired sleep quality.
The tea's plant-based ingredients will:
reduce nervous excitability,
soothe the mind, help relax and unwind,
promote a deep and peaceful sleep.
A NATURAL SOURCE OF RELAXATION AND GOOD SLEEP
It is recommended that one cup (200 ml) of infusion should be drunk three times a day. Does not belong to surpass prescribe portion for consuming within day (three pack). Do not use in the case of allergy to any preparation ingredient, pregnancy and breastfeeding.
PREPARATION:
Put a bag in a cup, pour hot water, cover the cup. Brew for 8-10 minutes. Product can not be applicable as differentiated diet substitute.