Memory and Concentration
Food supplement
Herbal Tea
INGREDIENTS:
Green tea, Yerba mate leaves, seeds from guarana fruits, Ginkgo biloba leaves.
A NATURAL PRODUCT
NO CAFFEINE
Content of the box:
20 tea bags a 2 g
NET WT. 1,4 oz. (40 g)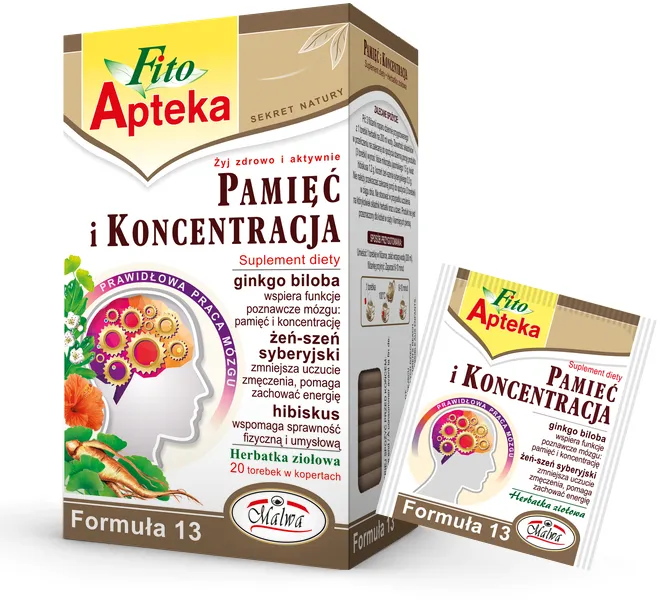 MEMORY and CONCENTRATION
MEMORY and CONCENTRATION Tea is a vegetable dietary supplement. With the content of ingredients that positively affect cognitive functions, the tea is recommended especially during periods of increased mental effort as well as physical effort, and in states of fatigue.
The tea contains specially selected vegetable raw materials:
ginkgo biloba leaves - support processes of perception, attention and memory. They impact favorably blood circulation in the brain, supporting peripheral circulatory. Ginkgo is important for maintaining normal vision and hearing. It increases concentration and ability to memorise, which weakens with age. Besides, it has got antioxidant properties. Gingo biloba has got a beneficial effect on the cardiovascular system, adds energy, stimulates, enhances vitality, supports the cognitive functions of the brain - memory and concentration, support the body during physical and mental fatigue,
yerba mate leaves - add act favorably on cardiovascular system, removes fatigue, stimulates, gives energy, they are also an antioxidant,
seeds from guarana fruits - help reduce mental fatigue, guarana adds energy, stimulates, enhances vitality.
RECOMMENDED CONSUMPTION:
It is recommended to drink 3 cups of the brew prepared from 1 tea bag in 200 ml of water per day. Do not exceed the recommended daily portion (3 bags) during the day. Do not use if you are allergic to any component of the tea. Due to the lack of scientific data, the product is not recommended for pregnant and breastfeeding women.
A METHOD OF PREPARING:
Put 1 bag in a cup, pour boiling water (200 ml), cover the cup. Brew for 8-10 minutes.
Product cannot be applicable as differentiated diet substitute.