ACTIVE DIGESTION
Food supplement
Herbal tea
INGREDIENTS:
peppermint leaves, caraway, anise, dandelion root, camomile, chicory root, apple, coriander.
A NATURAL PRODUCT
NO CAFFEINE
Content of the box:
20 tea bags a 2 g
NET WT. 1,4 oz. (40 g)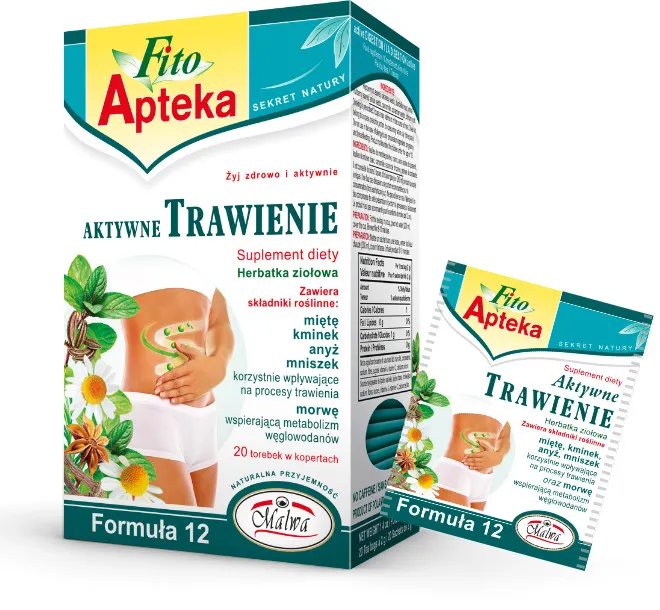 ACTIVE DIGESTION
A tea that supplements the diet with plant-based nutrients supporting the proper functioning of the digestive system. Especially recommended after hearty meals.
DIGESTION is a process occurring in the human gastrointestinal tract, aimed at providing the body with particular nutrients. Travelling through various sections of the tract, the consumed food is dissolved by digestive enzymes to the simplest form, to be absorbed and assimilated by the body.
The ACTIVE DIGESTION tea contains a set of specially selected herbal ingredients supporting the digestion process, that are particularly recommended after a hearty meal. It is best to drink 3 teas per day. The product contains mint leaves and camomile flowers which improve the functioning of the digestive system. Caraway fruits, anise fruits, coriander fruits, mint leaves and dandelion roots enhance the secretion of gastric juices and proper bowel functioning. Chicory roots aid the liver, and anise fruits promote appetite and reduce the feeling of fullness.
NATURAL METHOD OF BODY IMPROVEMENT
A healthy lifestyle and a balanced diet are indispensable for staying in good health.
PREPARATION:
Drinking is prescribed 3 cups a day before or in the course of meal. Does not belong to surpass prescribe portion for consuming within day (three pack).
Do not use in the case of allergy to any preparation ingredient, pregnancy and breastfeeding. Product not intended for children under the age of 12.
Product can not be applicable as differentiated diet substitute.