Raspberry with Bilberry and Açai
Exclusive Fruit tea
Ingredients:
Hibiscus, apple fruit, raspberry fruit, chokeberry, rosehip, raspberry leaves, flavour, elderberry, blackberry leaves, orange peel, blueberries, açai berry juice concentrate.
NO CAFFEINE
Content of the box:
20 tea bags a 2 g
NET WT. 1,4 oz. (40 g)
EACH TEA BAG INDIVIDUALLY WRAPPED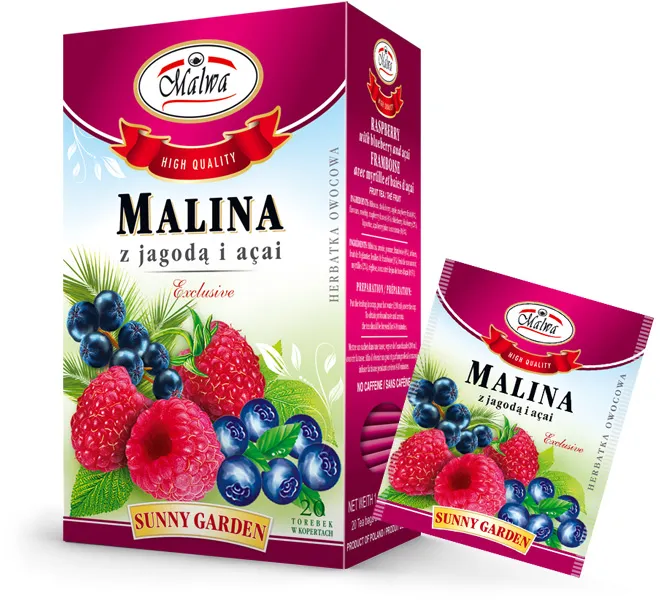 Raspberry with Bilberry and Açai
The abundance of natural components contained in the rape fruits of aromatic raspberry connected with bilberry and açaí is a unique source of pleasure and delightful experience of taste.
Raspberry – renowned for its taste and positive effect on our health, takes a noble position among other berries; having valuable properties, it:
improves our body immunity;
provides a feeling of calm, relaxation and warmth.
Bilberry - rich in anthocyanins, valued for extensive health-promoting properties, it is a great supplement of a diet.
Açai – called "the elixir of youth," comes from South America; its magical properties have been known for ages to the tribes people of the Amazon. It has many nutritious components:
strengthens and rejuvenates;
aids the natural digestion process;
alleviates stress, increases vitality;
has the highest absorption capacity of free oxygen radicals.
The fruit of açai, chokeberry, and bilberry contained in this tea are a natural source of strong antioxidants, which alleviate the negative effect of free radicals on our body cells, for which they provide a natural protection.
Raspberry with Bilberry and Açai Tea is a new experience in the world of taste. Open your senses and find out the secrets of a magical garden with fruit abundant in sunshine and vitality.
PREPARATION:
Put the teabag in a cup, pour hot water (200 ml), cover the cup. To obtain profound taste and aroma, the tea should be brewed for 8-10 minutes.