LUX SILHOUETTE
Food supplement
Herbal tea
A NATURAL PRODUCT
NO CAFFEINE
INGREDIENTS:
Nettle leaf (Urtica dioica), hibiscus flower (Hibiscus sabdariffa), peppermint herb (Mentha piperita), fennel fruit (Foeniculum vulgare), white mulberry leaf (Morus alba), field horsetail herb (Equisetum arvense), bladder wrack (Fucus vesiculosus).
Content of the box:
20 Tea bags á 2 g
NET WT. 1,4 oz. (40 g)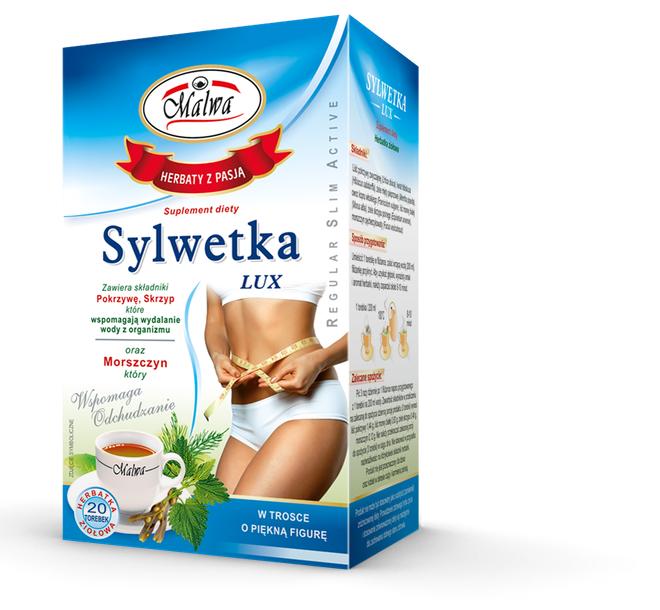 LUX SILHOUETTE
SILHOUETTE LUX tea - contains plant ingredients that can be an excellent addition to a slimming diet. The tea is therefore recommended for people who want to reduce their body weight.
Fucus - supports digestion. It facilitates intestinal passage and regular bowel movements. It helps to control body weight by participating in fat metabolism and affects the feeling of fullness and thus supports weight loss.
White mulberry leaf - helps to maintain the balance of carbohydrate metabolism. It can affect insulin production and slow down the breakdown of complex carbohydrates.
Nettle leaf - facilitates the excretion of water, and thus contributes to the removal of waste products.
Horsetail herb - supports the excretory function of the kidneys, helps to remove water from the body.
RECOMMENDED INTAKE:
Drink 1 cup of infusion prepared from 1 tea bag per 200 ml of water 3 times a day. The content of ingredients based on the recommended daily portion of the product (3 bags) is: nettle leaf 1.44 g, white mulberry leaf 0.60 g, horsetail herb 0.48 g, fucus 0.12 g. Do not exceed the recommended daily dose (3 bags).
Do not use in case of hypersensitivity to any ingredient of the tea.
The product is not intended for children and women during pregnancy and breastfeeding.
A METHOD OF PREPARING:
Put 1 teabag in a cup, pour boiling water (200 ml), cover the cup.
To obtain a deep, distinct taste and aroma of the tea, it should be brewed for about 8-10 minutes.
Leading a healthy lifestyle, applying a sustainable and varied diet are essential for maintaining good health.
The product can not be used as a substitute (replacement) for a varied diet.