COMBUSTION MAX
digestion + slimming
Food supplement
Herbal tea
A NATURAL PRODUCT
NO CAFFEINE
INGREDIENTS:
Nettle leaf, peppermint leaf, horsetail herb, tricolor pansy herb, dandelion root and herb, bitter orange peel, lemongrass, bladder wrack (Fucus vesiculosus).
Content of the box:
20 tea bags a 2 g
w indywidualnych kopertach
NET WT. 1,4 oz. (40 g)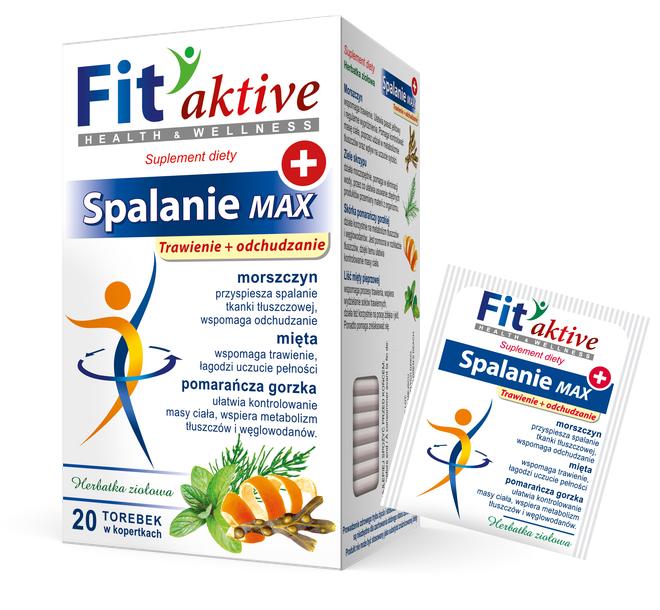 Combustion MAX
RECOMMENDED INTAKE:
Drink 3 times a day, 1 cup of infusion prepared from 1 bags per 200 ml of water. The content of ingredients based on the recommended daily portion of the product (3 bags) is: peppermint 0,96 g, horsetail 0,96 g, orange peel 0,48 gl, fucus vesiculosus 0,12 g. Do not exceed the recommended portion for consumption (3 bags) during the day. Do not use if you are hypersensitivity to any of the ingredients tea. The product is not recommended for children, women during pregnancy and in breastfeeding.
A METHOD OF PREPARING:
Put 1 teabag in a cup, pour boiling water (200 ml), cover the cup.
To obtain a deep, distinct taste and aroma of the tea, it should be brewed for about 8-10 minutes.
Leading a healthy lifestyle, applying a sustainable and varied diet are essential for maintaining good health.
The product can not be used as a substitute (replacement) for a varied diet.