STEADY SUGAR
Food supplement
Herbal tea
INGREDIENTS:
mung bean, juniper fruit, rosehip, apple, peppermint leaves, heart's ease herb, dandelion root, nettle, hibiscus, sage, artichoke, flavour, cinnamon.
Content of the box:
20 tea bags a 2 g
NET WT. 1,4 oz. (40 g)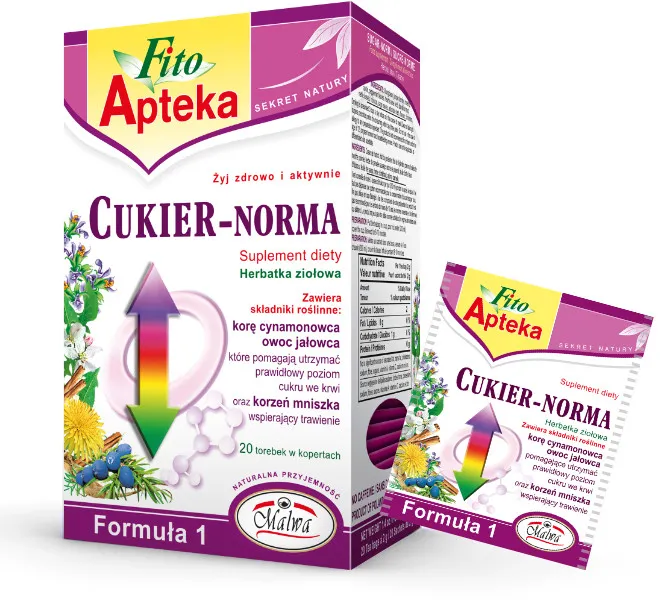 STEADY SUGAR
The STEADY SUGAR tea is a plant-based dietary supplement. It may be used by personas with carbohydrate metabolism disorders (diabetes).
It is a composition of ingredients in adequate proportions, which support carbohydrate management and help maintain the proper level of sugar in the blood.
Along with other hormones, insulin, produced by the pancreas, participates in the regulation of all metabolic processes in the human body. It uses sugars and fats as energetic material for cells. The absence of insulin or its improper administration deprive cells of energy supply (sugar and fat) and building material (protein), preventing them from using glucose, and thus its level in the blood rises.
Years of heightened sugar level in the blood negatively affect our health, increasing the risk of sight disorders and heart illnesses.
The tea's ingredients:
support the pancreas and insulin metabolism,
influence carbohydrate metabolism, including glucose absorbtion,
improve the general metabolism,
participate in lipid metabolism and maintain the proper level of sugar in the blood,
may supplement a diabetic diet.
The diabetic diet plan and doctor's instructions for taking medicines should be strictly followed.
Drinking is prescribed 3 cups a day before or in the course of meal. Does not belong to surpass prescribe portion for consuming within day (three pack). Do not use in the case of allergy to any preparation ingredient, pregnancy and breastfeeding.
PREPARATION:
Put a bag in a cup, pour hot water, cover the cup. Brew for 8-10 minutes. Product can not be applicable as differentiated diet substitute.