Healthy
Heart & Circulation
Food supplement
Herbal tea
INGREDIENTS:
Motherwort herb, horsetail herb, nettle herb, hawthorn inflorescence, lemon balm herb.
A NATURAL PRODUCT
NO CAFFEINE
Content of the box:
20 tea bags a 2 g
NET WT. 1.4 oz. ( 40 g)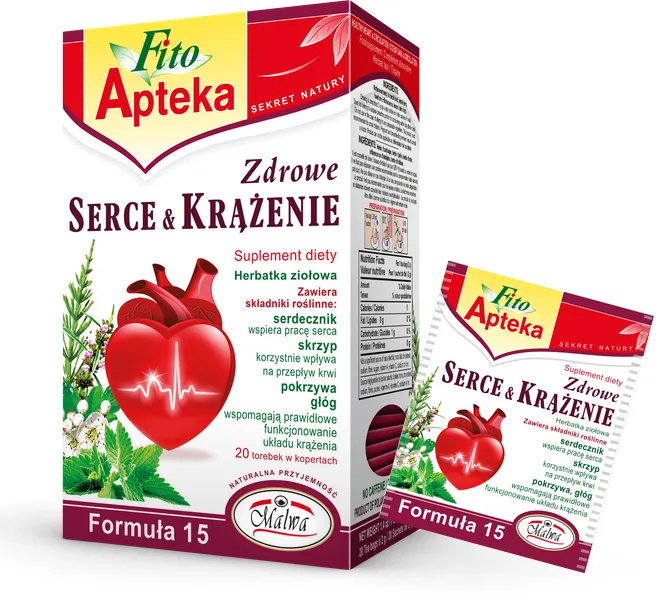 HEALTHY HEART & CIRCULATION
Tea Healthy HEART & CIRCULATION is a vegetable dietary supplement. It contains a composition of plant ingredients in carefully selected proportions, which support a normal heart function and affect proper functioning of the circulatory system:
cardiac herb - has a positive effect on the heart, affects flexibility and strength of blood vessels, supports blood circulation, contributes to proper functioning of the cardiovascular system,
hawthorn inflorescence and horsetail herb - support the heart, they preferably affect elasticity of the blood vessels walls, which result in supporting blood flow through the vessels,
nettle herb - positively affects work of the heart and circulatory system.
RECOMMENDED DOSE:
Drinking is prescribed 3 cups a day before or in the course of meal. Does not belong to surpass prescribe portion for consuming within day (three pack). Do not use in the case of allergy to any preparation ingredient. The product is not recommended for small children. Pregnant and breastfeeding women should consult a doctor.
Product can not be applicable as differentiated diet substitute.
PREPARATION:
Put the teabag in a cup, pour hot water (200 ml), cover the cup.
Brewed for 8-10 minutes.