SUNNY GARDEN
Exclusive fruit - herbal tea
THE SET INCLUDES:
1. BLACKCURRANT with cranberry
2. GINGER with quince and strawberry
3. RASPBERRY with blueberry and açai
4. PEAR with pineapple
5. CRANBERRY with chokeberry
6. PLUM with chokeberry
Content of the box:
36 tea bags a 2 g (6 x 6)
EACH TEA BAG INDIVIDUALLY WRAPPED
NET WEIGHT 2.54 oz. (72 g)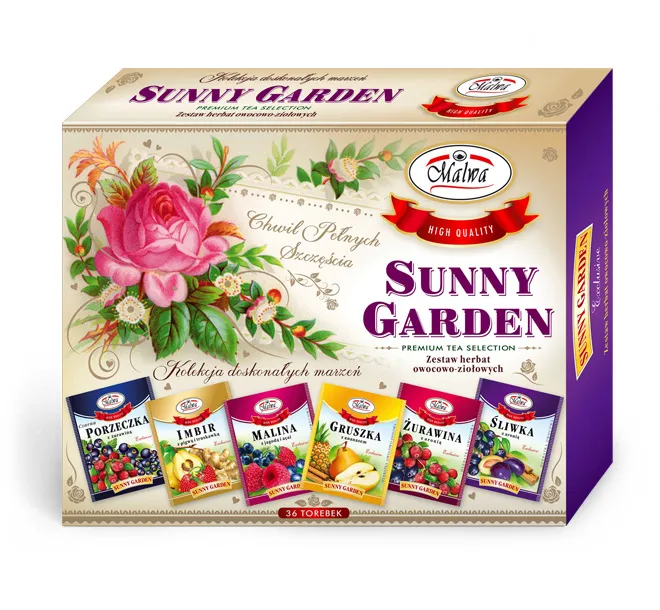 SUNNY GARDEN Occasional Sets - Finesse of good taste
NATURAL ANTIOXIDANTS
NEW EXPERIENCE IN THE WORLD OF TASTE
It is a range of teas full of natural inspirations and fulfilled dreams. Unique taste concoctions add to every tea a mysterious and individual character, creating an unforgettable climate of a magical garden. Malwa SUNNY GARDEN teas are like a romantic journey to the country of health and vitality, making them a perfect offer for new taste lovers.
Brewing Suggestions:
Put the 1 teabag in a cup, pour hot water (200 ml), cover the cup.
To obtain profound taste and aroma, the tea should be brewed for 8 to 10 minutes.