Senna
Food supplement
Herbat tea
INGREDIENTS:
Senna leaves (Cassia angustifolia)
Country of Origin: India
A NATURAL PRODUCT
NO CAFFEINE
Content of the box:
20 Tea bags á 750 mg
NET WEIGHT 0,53 oz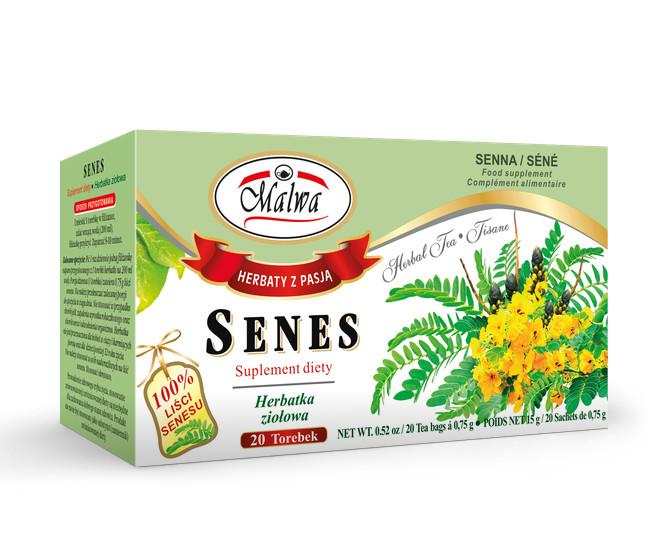 Senna
SENES LEAVES (Cassia angustifolia):
affects the maintenance of optimal comfort of digestive system and intestinal function (intestinal transit),
helps in maintaining regular physiological functions of the organism (facilitates defecation).
RECOMMENDED DOSE:
Drinking is prescribed 1 cup a day before or in the course of meal. The daily dose (1 bag) contains 0.75 g of senna leaves.
Do not exceed the recommended daily dose (1 bag) during the day. Do not use in cases of intestinal diseases, appendicitis, heart disease and dehydration of the body.
The tea is not intended for pregnant and breastfeeding women and children under 12 years. Do not use if you are hypersensitive to any component of the tea.
PREPARATION:
Put the teabag in a cup, pour hot water (200 ml), cover the cup.
Brewed for 8-10 minutes.
Leading a healthy lifestyle, applying a sustainable and varied diet are essential for maintaining good health.
The product can not be used as a substitute (replacement) for a varied diet.