WOMAN 40+
Food supplement
Herbal tea
INGREDIENTS:
lemon balm, peppermint, hibiscus, rosehip, anise, sage, hawthorn inflorescence, flavour, evening star, hop, yarrow, lavender, ginseng.
Content of the box:
20 tea bags a 2 g
NET WT. 1,4 oz. (40 g)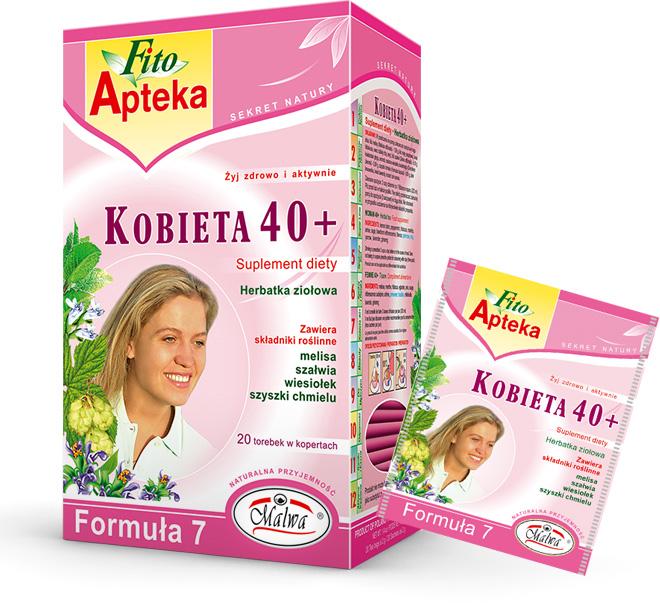 WOMAN 40+
The Woman 40+ herbal tea is made for mature women in the menopause. It contains a composition of herbs in adequate proportions.
The tea has been designed to help women alleviate the unpleasant symptoms of the climacteric.
The age at which the menopause starts depends on genetic factors, health, and lifestyle (usually between 45 and 55 years of age). At the age of 40, the female body starts to undergo physiological changes caused by the gradual cessation of ovarian activity. The production of hormones – estrogens and progesterone – is reduced, signs of their shortage appear (such as unexpected hot flashes, heavy sweating, changeable moods, nervousness, anxiety, annoyance, trouble with concentration and memory, hypertension, heart pounding). The majority of these bothersome symptoms are due to the low level of estrogens in the woman's body.
The tea's herbal ingredients are a valuable dietary supplement in menopause symptoms, such as:
hot flashes,
heavy sweating,
changeable mood, nervousness,
heart pounding,
fatigue.
Melissa – has calming and relaxing qualities. Brightens the mood, helps achieve peace.
Salvia – mitigates hot flashes experienced by women in the menopause. It also supports proper digestion and protects body cells from free radicals.
Evening primrose – supports metabolism.
Hop – is beneficial for the mood during the menopause, helps alleviate climacteric-related discomforts, such as sweating, annoyance, or fatigue. Helps maintain the correct level of cholesterol in the blood.
A healthy lifestyle and a balanced diet are indispensable for staying in good health.
Drinking is prescribed 3 cups a day before or in the course of meal. Does not belong to surpass prescribe portion for consuming within day (three pack).
PREPARATION:
Put a bag in a cup, pour hot water, cover the cup. Brew for 8-10 minutes. Product can not be applicable as differentiated diet substitute.