FOR MEN
Food supplement
Herbal tea
INGREDIENTS:
<pGinger, anis, lemon balm, peppermint, green tea, hibiscus, lovage root, nettle, cranberry, hawthorn inflorescence, african red bush, yerba mate, flavour, ginseng root.
Content of the box:
20 tea bags a 2 g
NET WT. 1,4 oz. (40 g)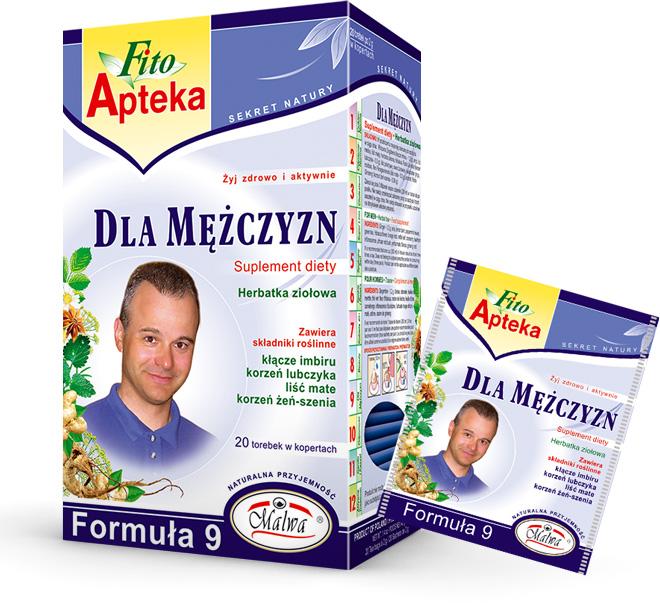 FOR MEN
The tea was made for men who wish to be physically and mentally fit and enjoy long and active lives. It contains a well-proportioned composition of plants. The tea is particularly recommended for men who work intensely, live under stress, feel tired and want to remain sexually active.
For those who are overweight, it is an effective supplement to slimming diets, as it includes yerba mate leaves. Mate leaves enhance metabolism, especially of fats, accelerate adipose tissue burning, and promote weight loss.
Ginger rhizome – gives energy, strengthens immunity and the heart,
Lovage root – helps maintain physical and sexual fitness,
Mate leaves – reduce fatigue, supports body weight reduction,
Ginseng root – arouses, strengthens.
The tea ingredients will:
enhance vigour,
improve memory and concentration,
alleviate fatigue caused by stress and overworking,
increase vitality,
support metabolism,
help reduce weight.
Rich in substances maintaining the proper functioning of the male body, improving brain activity, reducing fatigue, giving strength and energy, relaxing. A healthy lifestyle and a balanced diet are indispensable for staying in good health.
It is recommended that one cup (200 ml) of infusion should be drunk three times a day. Does not belong to surpass prescribe portion for consuming within day (three pack).
PREPARATION:
Put a bag in a cup, pour hot water, cover the cup. Brew for 8-10 minutes.
Product can not be applicable as differentiated diet substitute.