BEAUTY
Food supplement
Herbal tea
INGREDIENTS:
Horsetail, pansy, chamomile, apple, rosehip, peppermint, nettle, lemon balm, hibiscus, chicory root, orange peel, flavour, dandelion root.
Content of the box:
20 tea bags a 2 g
NET WT. 1,4 oz. (40 g)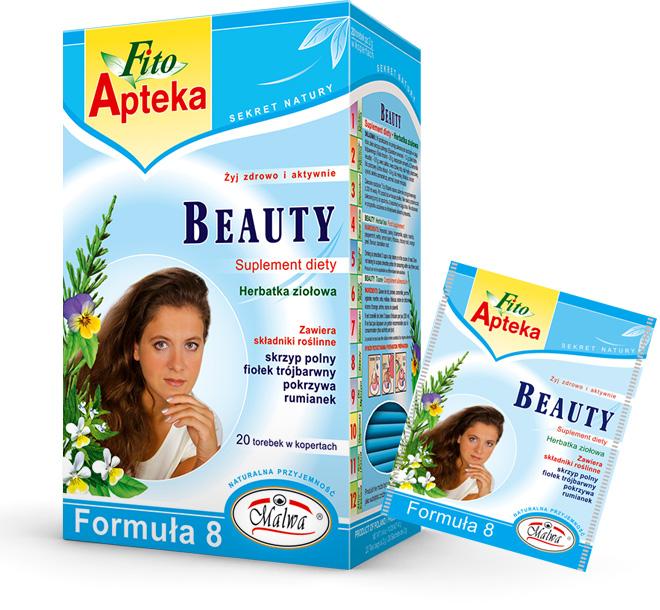 BEAUTY
The BEAUTY tea supplements the diet with components promoting attractive appearance, e.g. by strengthening and regenerating the hair, skin and nails. It contains a composition of herbs used in appropriate proportions, improving fitness and beauty.
The secret of the BEAUTY tea lies in its herbal components supporting natural protection and delicate care of your inner and outer self.
The tea's herbal components:
horsetail – improves the appearance of the skin, hear and nails,
heartsease – enhances natural blood purifying processes, particularly recommended for dry skin. It also improves well-being by facilitating digestion,
nettle – efficient in hair care, beneficial for the general skin condition. Helps remove water from the body, along with harmful metabolic products,
camomile – cares for the skin and well-being, calms down, relaxes. Aids the functioning of the immune system. Due to anti-oxidant properties, it protects the body from free radicals that promote aging.
Try out the unique Fito-Apteka BEAUTY tea and benefit from the power of plants in the purest form.
THE SECRET OF YOUTH!
A healthy lifestyle and a balanced diet are indispensable for staying in good health.
THE SOURCE OF BEAUTY!
Drinking is prescribed 3 cups a day before or in the course of meal. Does not belong to surpass prescribe portion for consuming within day (three pack). Do not use in the case of allergy to any preparation ingredient, pregnancy and breastfeeding.
Zalecane spożycie:
3 filiżanki naparu dziennie przygotowanego z 200 ml wody. Pić przed lub w trakcie posiłku. Nie należy przekraczać zalecanej porcji do spożycia (3 saszetek) w ciągu dnia. Nie stosować w przypadku uczulenia na którykolwiek składnik preparatu, oraz u kobiet w okresie ciąży i karmienia piersią.
PREPARATION:
Put a bag in a cup, pour hot water, cover the cup. Brew for 8-10 minutes. Product can not be applicable as differentiated diet substitute.